In Ethiopia, Our supplier partners with two different fair trade women's cooperatives. The first, a group of about 150 women, they first partnered with in 2015. This cooperative provides refuge, health care and the chance at a new life to women who have survived war, domestic violence and societal oppression due to their HIV/AIDS status. Gender-based violence is a significant issue in Ethiopia (as it is in every country around the world), and the cooperative behind Team Ethiopia was organized in response to such violence.


*Early marriage, bad pregnancies, rape and female genital mutilation effect the majority of women in Ethiopia, and these practices often result in fistula.




*Fistula is essentially a hole, causing women to leak urine and/or blood constantly. Because of this condition and the stench that accompanies it, women are pushed out of their community and assumed worthless. Because of fistula and/or their HIV/AIDS status, many of these women escape to Entoto Mountain, a hill outside the capital where Team Ethiopia is located, to seek refuge. Many believe that the waters flowing from Entoto Mountain will heal them, so the women bathe in the waters and live homeless on the mountainside, praying to be healed.




*Team Ethiopia recruits women living on Entoto Mountain, providing real relief to their conditions, including necessary medications. They receive skills training, and as a part of the cooperative, they receive 3x the minimum wage (more than many government officials), health insurance, and participate in peer support groups. They are now able to purchase homes, which means they don't have to rely on renting from landlords, many of which are known to kick residents out of their home if the HIV/AIDS status is discovered.




*These are STRONG women fighting back against the stigma of HIV/AIDS, and they're making real change in their communities! They're actively changing the trajectories of their lives by investing in their health, ensuring their children have education as well as a safe place to live, and helping to disband the stereotypes that have been placed upon them.

The second cooperative in Ethiopia is equally as amazing. It partners with 35 women on the outskirts of Addis Ababa. Formerly prostituted, these women now make more money creating fair trade jewelry than they did on the streets. This helps them be able to escape their former situations. They start with a year-long rehabilitation program, witch is paid for by the profits of the artisan cooperative through jewelry sales. The women receive stipends for housing, food, and education through the rehab program. They then spend the last 6 months of the year in skills training, where they get to pick between about 6 trades. One trade option is jewelry-making. Here they perfect their craft, and then afterwards, start working with the other women in the cooperative to make jewelry for our supplier! These artisans have the biggest hearts and brightest spirits -- every day in the workshop is spent laughing, and supporting one another. This cooperative also provides childcare for the women, as well as educational support for the women and their children. These Ethiopian artisans specialize in working with recycled bullet casings left over from the war between Ethiopia and Eritrea over a decade ago. These bullets have been stockpiled and crafted into beads you can see in our bracelets and necklaces from Ethiopia. We are blown away by Team Ethiopia's ability to transform recycled bullet casings into beautiful and meaningful jewelry, and we are proud to share their story with you.

How our Suppliers support Team Ethiopia!

"Our suppliers" refers to the business that helps us by finding products from various fair trade groups around the world. They first make partnerships with the groups, in order to buy their products and then supply those product to stores like us.
*
They support Team Ethiopia by helping them employ more women, earn higher wages and reach new customers. They commit to long term, reliable trade agreements that allow cooperatives to hire more women and make proactive business decisions. Team Ethiopia can count on them to place continuous orders at consistent prices, and that trust results in more jobs and more job security for women.
*They work very closely with this group on design. The bullet casing beads are expensive to make because they are so time-consuming, and it is (of course!) important that they pay the artisans fairly. To keep prices low for our final customers, it's important to develop designs that take less time to produce, therefore keeping costs lower. The group can make more pieces this way, so they're happy, and so are we!
*
Many women are
paid
less than 0.60usd/day. The
artisans
making our jewelry from
Ethiopia
are payed 15-25 birr per hour, resulting in 120-200 bir per day ($5.23-$8.71 USD/day). A huge difference!​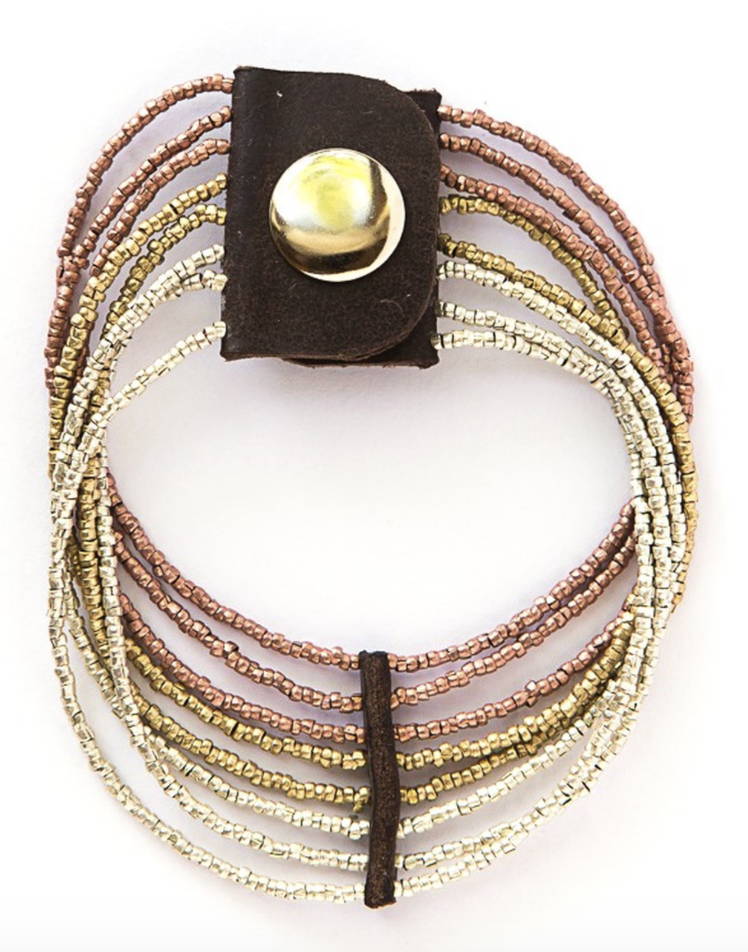 This bracelet is made fair trade by women in Ethiopia and is absolutely Beautiful. It becomes even more beautiful when you learn the story to this bracelet. It is made from recycled bullet casings. The Team in Ethiopia is possibly the most inspiring we highly encourage reading more about this team and piece!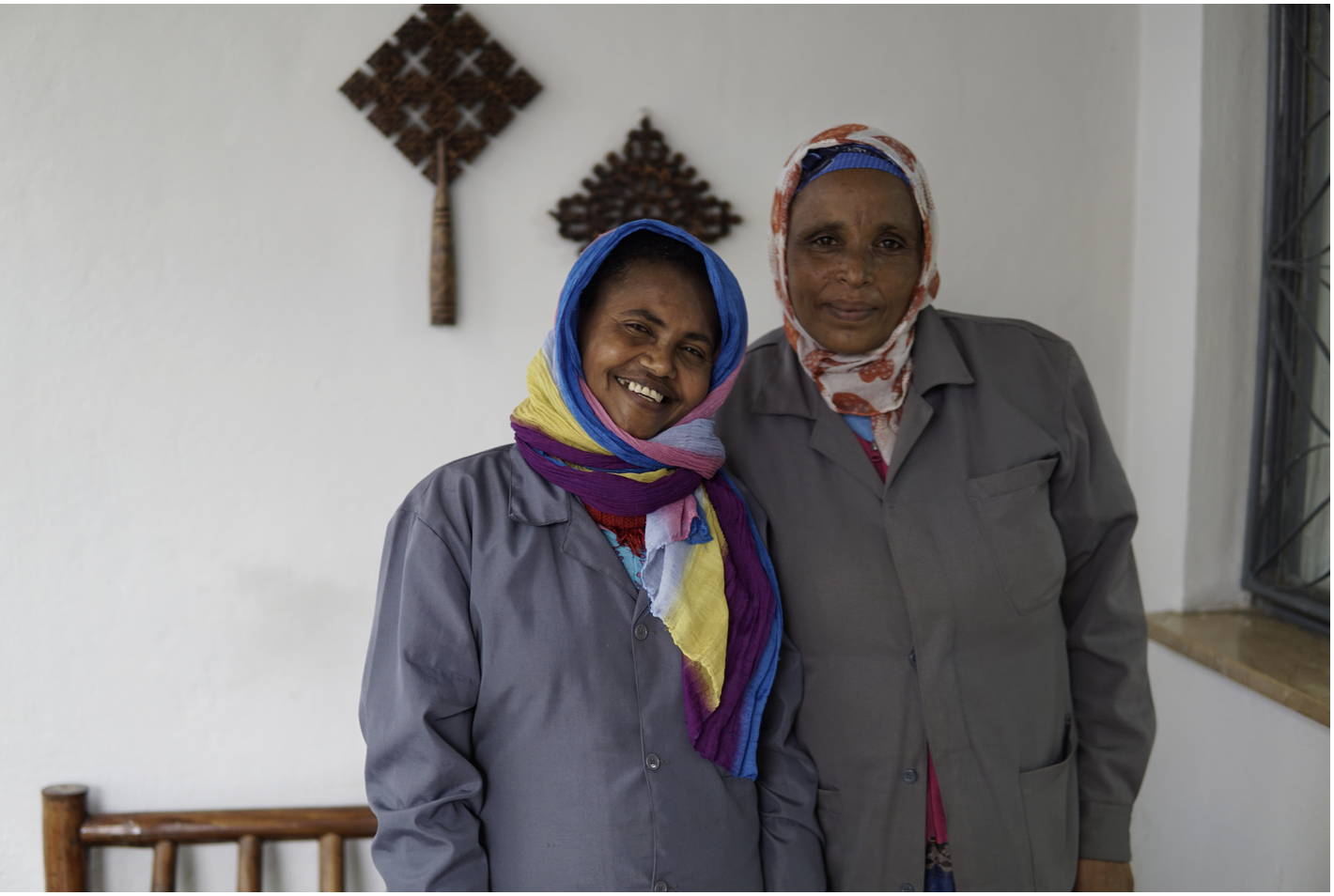 Addisalel (left) is from Addis Ababa. She went to school and sold tea after graduation. When she found out she had HIV, Addisalel prayed and fasted for a cure on Mount Entoto. She got connected to a workshop that trains women to make jewelry from recycled bullet casings. Addisalel is an efficient and focused worker. She quickly learned how to make bracelets, necklaces, and earrings with the tiny beads and moved to the finishing class for skilled artisans. Earrings are her favorite type of product because she can make many in a short period of time. Addisalel loves to read history books and the Bible and hopes to continue her education. Kademech (right) is the mother of five children. Her life was upturned when her husband passed away five years ago. Her in-laws paid for her to get tested for HIV and Kademech's results were positive for the disease. The family moved from a rural part of Ethiopia to the bustling city. Kademech started working with the artisan group making jewelry - the first time she worked outside of her home! She also works in the finishing class and loves to make necklaces because they are complicated and require concentration. Every day after work, she rushes home to spend time with her school-age kids. They make dinner together and Kademech helps them with their homework."I plan to help my kids and see them succeed. They rely on me and I pray for them every day."